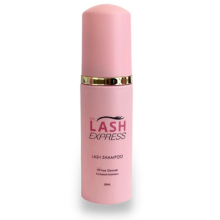 EYELASH FOAM CLEANSING SHAMPOO
The Lash Express Lash Shampoo is the perfect way to clean and maintain eyelash extensions. It is formulated with a gentle, non-stripping formula that removes dirt, oil, and makeup residue without damaging extensions.
Our shampoo also helps to hydrate and nourish the natural lashes, keeping them healthy and strong. It is also free of harsh chemicals and fragrances, so it is gentle on the eyes.
FEATURES
Gentle, non-stripping formula
Removes dirt, oil, and makeup residue
Hydrates and nourishes natural lashes
Free of harsh chemicals and fragrances
Safe for daily use
 BENEFITS
Clean and healthy-looking extensions
Hydrated and strong natural lashes
Reduced risk of breakage
Safe for daily use