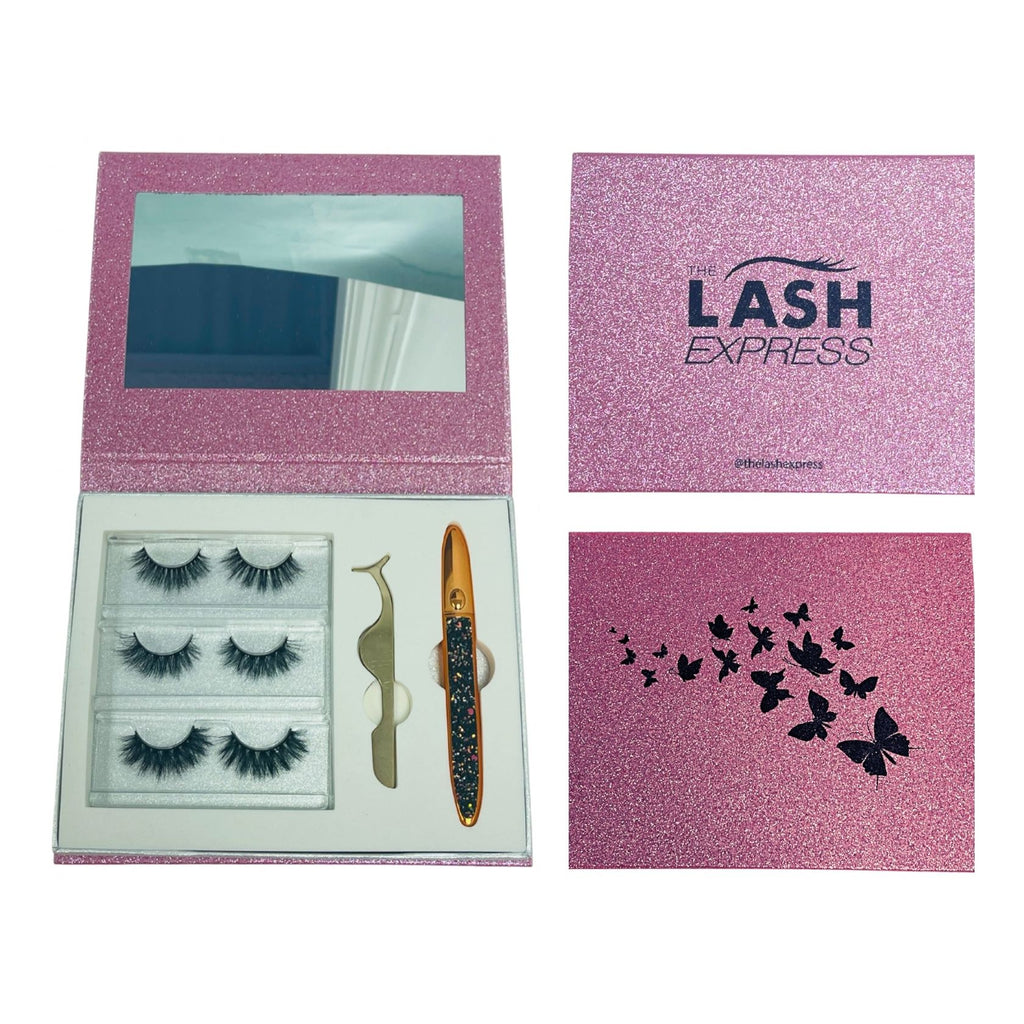 Reusable Lash Strip Kit - 3 SETS - Mink
Introducing the Lash Express Reusable Lash Kit, the ideal accessory to perfect your lash look for any occasion!
This kit includes three unique sets of reusable Pure Mink Lash Strips, each designed to suit a different type of event, from the office to a black-tie affair.
Transform your eyes with ease and add a touch of glamour to your look with these high-quality, pure mink strip lash sets. Perfect for anyone looking to enhance their look. Try the Lash Express Reusable Strip Lash Kit today and experience the magic for yourself!
ROUNDED EYELASH STYLE: Get irresistibly beautiful eyes with TLE Mink Wispy Kit! These fake lash extensions were designed by a Master Eyelash Extension Artist and were constructed to provide a more almond eye-shape; making it easy to adjust to the natural curvature of the eye. Gives innocent, Doe-eye effect! It adds a soft boost to your own eyelashes' length and volume. Perfect fit for a Soft Glam makeup look!
DRAMATICALLY EXTENUATE YOUR EYES: These Strip Lashes are Lash Artist Approved! It is angled for lash perfect for a smooth, vintage style finish. These fluffy handcrafted falsies have a tightly bundled lash line to add a touch of wanderlust with attitude to your eyes. They help you achieve definition and length giving you an amplified, alluring yet naturally gorgeous eye enhancement that many will find irresistible. Turn your eyes from ordinary to glamorous pair with these blinkers!
CONVENIENT TO WEAR, FEATHER-LIGHT STRIP FALSIES: Featuring the Natural, Dramatic and Super Dramatic Looks from TLE, you can easily apply these Mink lashes to your eyes and you will just love the lightweight feel. These will be your go-to for years to come, they have a solid lash line, that lift-up your eyes and make you look and feel more refreshed!
NO MORE WAITING: No more fumbling around with slow drying messy strip lash adhesives making this kit irresistible and allows the strips to be removed without destroying the strip and more important not damaging your natural eyelashes. This makes this kit 5 steps above any other strip lash variety ensemble on the market.
PRO-APPROVED, TOP QUALITY LASH ENSEMBLE: Handmade with extreme attention to details, Mink-lashes from TLE will help transform your next makeup look! They are soft, premium quality hair strands that make you feel like they are your own, bring life to your eyes and compliment whatever makeup style you're wearing! These falsies blend naturally with your lashes to enhance your eyes, keeping the fantastic flare-eye effect all the time. 100% cruelty-free, made as a by-product of wearable fashion.